CHILDREN CLASSES
We want them to want to come to French class!
French Classes for Children
Our teaching methodology helps children have fun while learning French. We mix activities, games and topics to keep children engaged through their learning process and maintain groups small to maximize our attention on each child individually. We get to know them, we help them progress at their own pace through their own challenges.

They embrace such a warm environment that is a delight to learn. My kids love it and they have learned french very quickly. Learning French at Bonjour & Bienvenue is my kid's favorite activity.
L. Colina
Les Enfants
5-7 years old
Games and Activities
Fun interative games and activities to establish a healthy foundation. Learn vocabulary and phrase structure while having fun. They will want to come back! 
Les Jeunes
8-12 years old
Activities and Discussions
Discussions and activities on topics of interest to engage the children and create and reinforce a foundation for vocabulary and phrase structure.
Les Ados
13-18 years old
Discussions and Projects
Discussions, activities and projects relevant to teens so learning never stops being interesting and fun. Vocabulary, phrase structure on teens topics.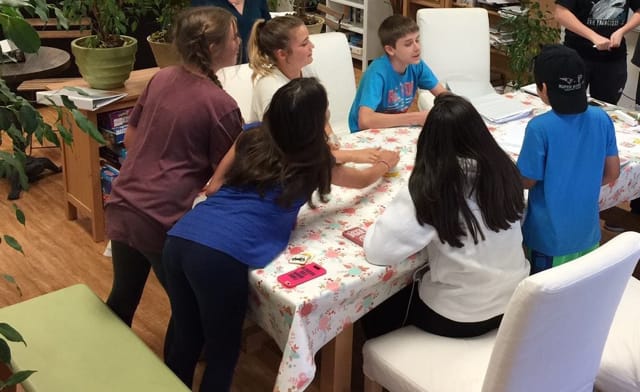 How long are the classes?
Classes are 90 minutes long. We also keep the groups small to ensure we can maximize our attention on each child.
I am not sure about my child's level
In order to best evaluate your child's level,  you have the option  to purchase a one class credit as a trial class.
Do you have programs for Francophones?
Oui ! We have special programs to support children in expatriation or children who speak French fluently but reside in the Houston area. These  are very advanced and complement existing remote distance programs such as CNED or can be used as an alternative. Come visit us so we can explain what we do in more detail. We run these programs weekly after schools, between 4.30pm and 6.00pm. Check out SOUTIEN SCOLAIRE page.
* Our class pack PARIS includes our cultural membership for free with up to 50% discounts on our cultural events and workshop and access to learning content online.
FRENCH TUTORING FOR CHILDREN
We offer private lessons and tutoring options for parents who want their children to learn French rapidly and / or privately. These programs follow the same format and pricing as the private lessons and bootcamps for adults
FRANÇAIS EXPATRIÉ / BILINGUAL
A unique program for children – advanced speakers and bilingual – who want to maintain and expand their French while residing in Houston.
Check our adult group classes and our private tutoring programs
Children classes enquiry form