French Classes and Culture in Katy, West Houston.
Learn French
French is a great language to speak and a true asset in today's world. Learning it should be fun and rewarding.
Our approach is different. We combine classes and programs with cultural events and workshops to provide a true immersion.
Although learning grammar is important it is not the best approach to learning any language. We develop your listening and speaking abilities first. You learn through activities, discussions, and role-playing games to help you become confident.
Discover France
Beyond language, cultural members and students learn how to make their own French baguette or discover regions and traditions of France.
Join in on our French mornings or French movie nights and social events to immerse yourself further.
Let us help
If you need help with a project related to French or France we know we can help. Drop by or call us to discuss. A bientôt !
Our Vision, Your Cultural Center
Bonjour & Bienvenue to your French cultural center in Katy, West Houston! Our mission is driven by a desire to break with a long lasting misconception that French is difficult to learn. It's not, and we can prove it!
Whatever your age, level and ambitions, we offer a unique immersion platform to help you learn comfortably. Integrating language and culture is a key to your success, and to our approach.
We keep our classes and programs fun but with the highest level of quality to make your experience rewarding.
We're always happy to help you in your linguistic and cultural journey.
A bientôt !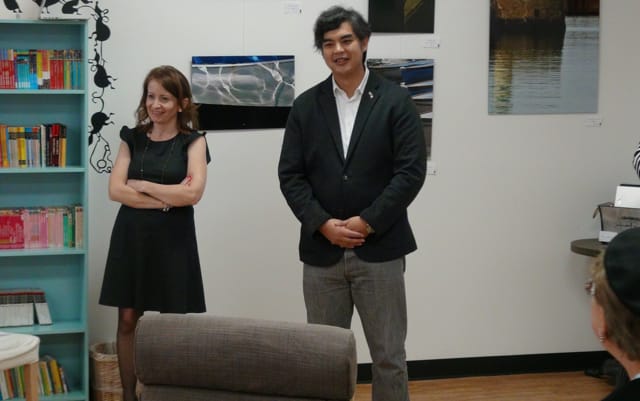 Axelle Bouleau, Founder.
Mr. Sujiro Seam, Consul Général de France.
Mrs. Axelle Bouleau, M.A. in Linguistic from SOAS London, is a professional linguist who has taught French and Mandarin to students – adults and children – around the world from Dubai to London. She is the founder of Bonjour & Bienvenue and the inventor of the J'apprends (I learn) approach used in all our classes. Mom of 3 bilingual children she has experienced first hand the challenges that lie ahead of anyone's journey in learning a new language. 
Reaching us via i99
The center is now easily accessible to West Houston communities such as Sugar-Land, Fullshear, Richmond, Cypress by getting onto i99 and exiting on Westheimer Parkway.