French Learning Apps
Fun, Simple, Practical French
Learning French should be a fun and rewarding experience!
What makes our French learning apps different?
Our apps are designed to be lightweight and focused on a very important French learning topic. They help you learn something valuable independently of complex grammar or other topic. You learn something you can use right away at home, on the go or during your travels. All our apps include built-in lessons, vocabulary cards, and a fun game to test your learning.
GREAT FOR TEACHERS TOO!
Our French learning apps also include functionality usefull for classroom teachers who need simple and cost effective technology to help students learn key concepts better.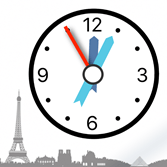 Learn French. Time.
This is the perfect companion app for anyone learning how to tell time like the French do. Covering both the 12 and 24 hours formats, and the typical French expressions, the app enables students to check time in French anywhere, to practice and learn through vocabulary cards and to be put to the test through a fun time-based game. Can you reach 100 correct answers? The app inludes male and female voiceovers, important vocabulary, dates and numbers learning sheets and the very important scoreboard should you wish to challenge friends and family.
Tap on the clock to hear date and time in French. Switch to 24 hour mode when applicable and click on the teacher to switch between Miss Axelle and Mr Jean-Pierre, for female or male voiceover. C'est simple !
Practice mode helps you set the times you want to review and practice. Switch to the "full screen no text mode" to help you practice or show your classroom students and let them guess, say and write what the time is. Tap the clock for voiceover with the currently selected teacher.
Learn important vocabulary from dates and numbers to life saving phrases. Click on the teacher for different voiceovers. Vocabulary sheets include days, months, numbers … everything you will ever need to learn how to tell time.
Game mode puts your learning to the test! The clock is tickin. Can you re-create the time phrase from the time on the clock, or read the text and pick the right French time? You only have 5 lives before it's all over. Attention, there is no undo!