ADULT CLASSES
A new fun approach for a fun language!
French Classes for Adults
We develop your listening and speaking abilities first. You learn through activities, discussions, and role-playing games to help you become more comfortable, then confident. You can alternate between French 1, 2 and 3 as you progress. We're here to help you level up to reach your ambition. French should be fun and rewarding to learn. Let's do this together!

FRENCH – 1
Curious about French
Build a healthy and practical foundation you can use right away.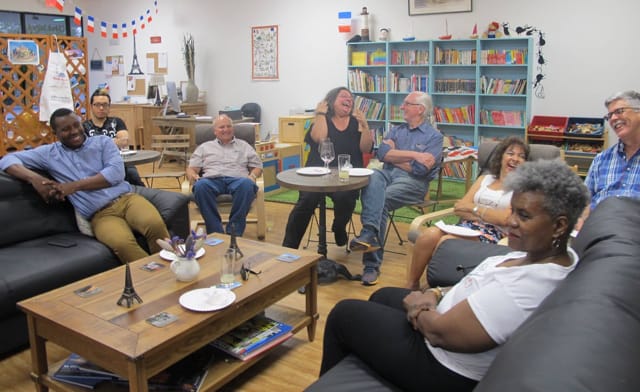 FRENCH – 2
Comfortable notions of French
Expand your foundation through more advanced grammar and vocabulary.
FRENCH – 3
Confident French speaker
Engage in situations and topics as if you were born in France!
How long are the classes? How many students?
Classes are 90 minutes long. We keep the group small with only 8 students to ensure we give everyone maximum attention.
How flexible is the schedule?
Classes are self contained modules. Purchase class credits to spend over a 3 months, 6 months or 12 months period. Participate when your schedule allows.
Is it conversational only? No grammar?
Our self contained classes include everything you need to know about the topic, with a much stronger emphasis on helping you understand and speak the language. The core idea is to develop your listening and speaking skills first. You will learn grammar and conjugation, but you will learn it in context for the topics at hand. Did your parents teach you to speak your native language with grammar books first?
Can I try before I buy? Can I attend a free class?
If you would like to see how we do things we offer a discounted one time class price for any of our language classes. For just $50 you can join one of our group classes and see for yourself how much fun and how much learning we are able to combine together to help you on your linguistic journey to learn French.
* Our class pack PARIS includes our cultural membership for free with up to 50% discount on events and workshops and access to learning content online.
Private French Tutoring
accelerate your learning through maximum focus and attention
PRIVATE LESSONS
All levels.
Private classes give you quality time with a native French instructor one on one.
Bootcamps allow you to define the exact topics you want to learn so we can accelerate your learning experience.
Private French classes and bootcamps begin with a definition of your learning ambitions and objectives. We define a plan together based on your schedule and price it accordingly. It can be as intense as you need or as relaxed as you want it.
The starting price for a 10 hours private lessons program is $600.
Check our French classes and programs for children
Adult classes enquiry form